Christine Havens, M.A., L.M.H.C.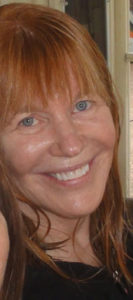 The life of human beings: how we move, what we feel, how we relate and connect, how we think and most importantly, how we evolve and become embodied, is Christine's deepest area of interest and study. For the past 35 years, she has studied and worked with psycho-somatic therapies and moving meditation practices/conscious dance.. Christine has danced since 1989 and prior to teaching Open Floor, taught 5Rhythms for 20 years.  Christine honors Gabrielle Roth, creator of 5Rhythms, as her first teacher in conscious dance. In 2014, Open Floor International School was founded by a group of seasoned movement teachers across the world. Christine now teaches with Open Floor International School and teaches Open Floor Movement Practice/Conscious Dance, throughout the world.
Christine also teaches Open Floor Encounter and Libido Fundamentals for Open Floor International. One of her students called the Encounter work "the golden gem" of all movement work. Both Encounter and Libido workshops are supported by the Open Floor embodied movement practices. Open Floor Encounter is an incredible practice that opens the dancer up to the profound opportunity to know themselves and be known, to rest in compassion and to know their own innate wisdom. Libido Fundamentals explore the generative, creative energy that all human beings hold.The Libido Fundamentals workshops touch on the powerful universal elements involved in feeling, moving, and increasing the ability to fully embody this energy.
Christine enjoys combining somatic and spiritual practices in all her work. She is passionate about and devoted to developing embodiment, presence and community through the spiritual practice of embodied movement meditation/ conscious dance.
For the past 36 years, Christine has also had a private practice as a psychotherapist/movement therapist. Christine has worked with the SE trauma resolution model for 20 years.  She completed a 3 year training with Peter Levine in Somatic Experiencing (SE), a profound trauma resolution practice. Christine also is accredited in Emotionally Focused Therapy, which focuses on attachment paradigms. In 2016, Christine assisted Andrea Juhan in teaching Therapy in Motion in California and in Switzerland. This is a module of the Open Floor training that is open to therapists who are involved in the Open Floor Teacher Training.
"The community of embodied movement meditation dancers in the Northwest and all over the world, is a tribe I deeply value for their insights, support, compassion and love. Mostly I treasure their capacity for presence and their willingness to confront and know their own egos. Dancing and teaching has influenced every area of my life. I am grateful each day for the depth of these practices and the amazing human beings who step on the dance floor, many who then stay for a lifetime!"
— Christine Havens